HISTORY OF THE OLD TIME RADIO
Before Television, Radio was the dominant home entertainment medium.

Old Time Radio (OTR) and the Golden Age of Radio refer to a period of radio programming in the United States lasting from the proliferation of radio broadcasting in the early 1920s until television's replacement of radio as the dominant home entertainment medium in the late 1950s. During this period, when radio was dominant and the airwaves were filled with a variety of radio formats and genres, people regularly tuned in to their favorite radio programs. In fact, according to a 1947 C. E. Hooper survey, 82 out of 100 Americans were found to be radio listeners.
Origins
Radio content in the Golden Age of Radio had its origins in the theatrophone. Broadcasting began in the 1880s and 1890s with audio recordings of musical acts and other vaudeville. These were sent to people by means of telephone and, later, through phonograph cylinders and
discs. Visual elements, such as effects and sight gags, were adapted to have sound equivalents. In addition, visual objects and scenery were converted to have audio descriptions. On Christmas Eve 1906, Reginald Fessenden is said to have broadcast the first radio program, consisting of some violin playing and passages from the Bible. While Fessenden's role as an inventor and early radio experimenter is not in dispute, several contemporary radio researchers have questioned whether the Christmas Eve broadcast took place, or whether the date was in fact several weeks earlier. The first apparent published reference to event was made in 1928 by H.P. Davis, Vice President of Westinghouse, in a lecture given at Harvard University. In 1932 Fessenden cited the Chistmas Eve 1906 broadcast event in a letter he wrote to Vice President S.M. Kinter of Westinghouse. Fessenden's wife Helen recounts the broadcast in her book Fessenden: Builder of Tomorrows published in 1940, eight years after Fessenden's death. The issue of whether the 1906 Fessenden broadcast actually happened is discussed in Halper and Sterling's article "Seeking the Truth About Fessenden"[1] and also in James O'Neal's essays.[2] [3] An annotated argument supporting Fessenden as the world's first radio broadcaster was offered in 2006 by Cambridge University educated Dr. John S. Belrose, Radioscientist Emeritus at the Communications Research Centre Canada, in his essay entitled "Fessenden's 1906 Christmas Eve broadcast." (Read More)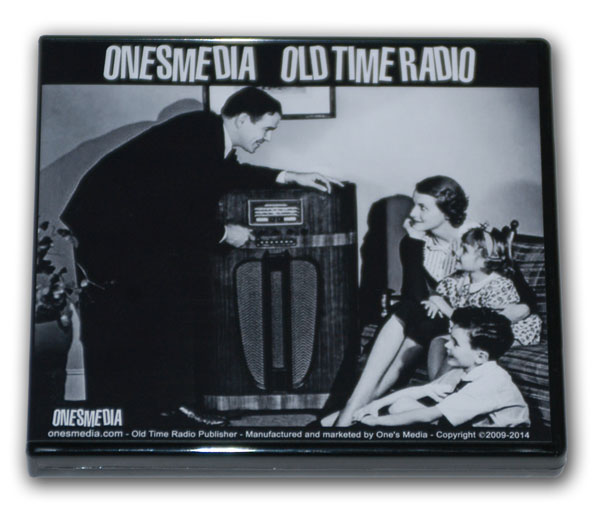 All the orders with 3 or more discs will be delivered in nice and durable box sets. Easy to access, and your OLD TIME RADIO discs by ONE'S MEDIA will be protected all the time. You can build a nice and neat library. We have more new things for 2013. Subscribe to our newsletter to keep informed with all our future initiatives. One's Media 6 disc case is a very sleek looking case that will help you trim the excess space eating CD cases from your shelves. At 16mm of thickness, it is significantly more compact than regular 6 disc CD cases. Instead of traditional plastic trays, this case uses an ingenious 2 ring locking system. When combined with the three double sided disc sleeves, the 2 ring locking system makes organization and rearranging a breeze. It is made from a 100% polypropylene substance that gives the case its surprisingly light weight. Finally, our fantastic DVD case is outfitted with a clear outer sleeve.
ONE'S MEDIA REWARD PROGRAM

Everyone loves rewards so at onesmedia.com we reward your purchase with 10 points for each 1 dollars you spend. Once you accumulate at least 100 points, you can begin redeeming them on your next order.

There are no limits to how many points you can collect.

Log-in to your account to see how many points you have and to redeem them. Points must be redeemed within 1 year of the date of issue.

onesmedia.com reserves the right to alter or terminate the Rewards Program at any time. Reward Points have no cash value.